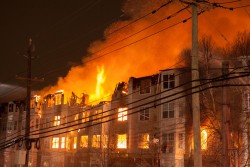 Four people were killed and two more were injured after a three-alarm fire broke out in a multi-family building in Lynn, MA, in the early hours of Friday, December 4. According to reports from Boston.com and others, police officers first noted the fire broke out between two apartments on Bruce Place in Lynn around 12:45 a.m. A spokesperson for the state fire marshal's office said that 18-20 people were in the building at the time of the fire.
James McDonald, the Chief of the Lynn Fire Department, told reporters on the scene that people were self-evacuating the building, and that people trapped in the building had been rescued. McDonald also noted that heavy fire was already showing out the front of the building upon the fire department's arrival.
While no details have emerged about the identity of the four deceased victims, reports indicate that none were children. Two additional victims — a woman in her 60s suffering from burns and smoke inhalation and an 18-year-old woman — were rushed to Mass General hospital. The cause of the fire has not yet been disclosed.
According to the National Fire Protection Association, between 2011-2013 more than 369,000 homes per year in the U.S. caught fire, resulting in upwards of $19.5 billion in damages. In Massachusetts alone, there were 17,395 structural fires reported in 2014, leading to 45 civilian deaths, two fire service deaths and 268 civilian injuries.
The Bruce Place fire was the third significant fire in Lynn in the past several months. On October 27, a three-alarm fire at a mixed residential and commercial building on Chestnut & Union displaced about two-dozen people. On Sunday, September 27, a two-alarm fire at 263 Essex St. required 35 firefighters, six fire engines and three ladder trucks to extinguish.
January 11th, 2016 | Posted in Blog, Latest News