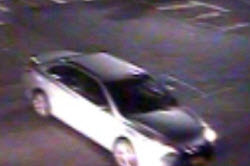 Boston Police have asked the public to identify the driver responsible for a serious bicycle accident early April 30 that sent a cyclist to the hospital with life-threatening injuries.
Two cyclists were riding side by side eastbound on Commonwealth Avenue at 3:30 AM when one of them was hit by a four-door silver sedan near the Clarendon Street intersection. The sedan fled the scene, driving the wrong way down Berkeley Street.
Witnesses said the vehicle was speeding at the time of the crash. Surveillance video suggests the vehicle has damage to the windshield and roof on the driver's side.
The injured cyclist, identified only as a 30-year-old male, was taken to Massachusetts General Hospital, where he remains in critical condition. Anyone with information on the crash is asked to call Boston Police at 617-343-4470.
As Sheff Law noted in our recent post on bicycle accidents, Boston has become one of the deadliest cities in the United States for cyclists. Media coverage of the April 30 accident painted a grim picture of life for cyclists on Boston's streets, with bike riders telling stories of being hit by cars, "doored" when drivers open doors without first checking their mirrors for cyclists and winding up in the hospital.
Spring brings cyclists, and drivers should expect to see cyclists on the road at any time of day. Drivers have an obligation to be aware of everything on the road, especially cyclists and pedestrians.
Sheff Law has extensive experience supporting cyclists, pedestrians and drivers injured in hit and run accidents. Our unique team approach gives you access to several Boston personal injury lawyers to provide the communication and compassion you need to support you on the road to justice.
If you have been hurt in a bicycle accident, please contact us online or call us at 1-888-423-4477 for a free case evaluation
May 1st, 2017 | Posted in Blog