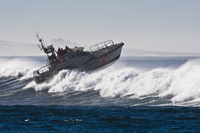 On January 2, 2014, the United States Coast Guard (USCG) issued two marine safety alerts regarding deck and entanglement accidents. The alert came after the US Bureau of Labor found that commercial fishing was the second most dangerous occupation in the United States in 2012. This occupation led to over 117 deaths for every 100,000 workers that year, compared to the national occupational fatality rate of 3.2 deaths for every 100,000 workers. The nation's most dangerous occupation is logging, which causes 128 deaths per 100,000 workers.
The USCG announced that this alert was meant to call attention to possible dangers aboard commercial fishing vessels on deck. Working around deck machinery that is in motion, rigging and other equipment requires caution and attention to safety measures.
The alert cited a recent accident that led to the death of a crew member, and said this accident "highlights the need to remain ever vigilant to unsafe practices and conditions." This accident happened when a crew member was in what was described as a "hazardous location," in the alert – a space on the working deck near the stern, between the interior bulwark and a large trawl wire that was holding at minimum 1,400 pounds of positioned fishing gear. Increased pressure on the load wire coupled with a change in the load path direction (because of the ship's motion and sea state) caused the wire to become tight against the bulwark where the victim was standing. The crew member became trapped, leading to fatal injuries.
Tags: workplace safety
January 12th, 2014 | Posted in Blog, Workplace Safety Blog