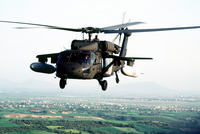 According to comments made by a military spokesman on Thursday, January 16th, a member of an elite Army helicopter unit was killed, and two other crew members suffered injuries, when their MH-60 Black Hawk helicopter they were flying in hit the ground. The one deceased and two injured crew members were attempting to land at Hunter Army Airfield in Savannah, Georgia.
The helicopter went down near the main gate of Hunter Army Airfield. The Airfield is located near Savannah's main shopping centers and neighborhoods.
The crew members were assigned to the 160th Special Operations Aviation Regiment. The Regiment provides crew members instructions on how to fly helicopters behind enemy lines stealthily under the cover of darkness. This unit, nicknamed the Night Stalkers, has been responsible for many important, covert missions throughout its existence. One of these missions was flying Navy SEALs into Pakistan during the 2010 raid that culminated in the targeted assassination of Osama Bin Laden. Although this regiment is headquartered at Fort Campbell in Kentucky, it has a battalion that is stationed in Savannah.
Tags: workplace safety
January 12th, 2014 | Posted in Blog, Workplace Safety Blog