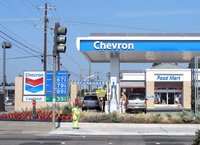 A Chevron U.S.A. employee's surviving son and daughter are suing the company on behalf of their father for gross negligence. The Plaintiffs allege that Chevron knowingly exposed their father, Joseph Guidry, to carcinogenic chemicals and that as a result Mr. Guidry did develop cancer and die from his illness. The civil lawsuit was filed on February 24 in the Jefferson County District Court in the state of Texas, six months after his death.
Mr. Guidry was initially employed by the major oil company Gulf Oil, which was later rebranded as Chevron. The lawsuit filed by his children, Lance and Terry Guidry, alleges that Mr. Guidry was regularly exposed to carcinogenic benzene which caused him to develop Leukemia.
Plaintiffs are also accusing Chevron of withholding information about the danger of the chemicals involved in the work environment for the employees in Jefferson County, and failing to warn employees of known chemical risks.
Tags: workplace safety
March 21st, 2014 | Posted in Blog, Workplace Safety Blog