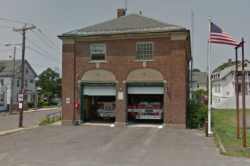 A 59-year-old worker died from electrocution while painting windowsills at Salem Engine House 5 on Loring Avenue, after the bucket lift he was using got tangled in power lines.  The Occupational Safety and Health Administration (OSHA) will investigate the accident.
At around 2:30 PM, a worker from Baystate Painting was working on the back of the building when he was knocked unconscious after contacting power lines. Rescuers were unable to reach the man until National Grid shut down power in the area.
Between October 4, 2014, and October 5, 2015, there were 10 workers killed by electrocution who were not specifically working on overhead power lines or electrical equipment, according to OSHA. Crushing remains one of the most common types of crane accidents, but electrocution is a very real risk for users of boom trucks, cherry pickers and scissor lifts.
An operator's experience with boom trucks can be a factor in electrocution accidents. Weather can also play a role, with high winds presenting a real risk even to those experienced in crane and backhoe operation.
Sheff Law has extensive experience in workplace accidents and deaths, including crane accidents. We provide a team of personal injury lawyers for every case, giving our clients a greater range of experience and knowledge than any single lawyer could provide.
Free, no-obligation consultations are available for those impacted by workplace accidents. Contact us online or call us at 1-888-423-4477.
March 29th, 2017 | Posted in Blog, Workplace Safety Blog