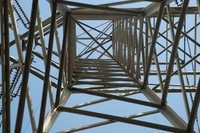 Marco Antonio Huezo Mancea, a worker at a Boston Bridge & Steel Inc. mill, was killed when a 12,000 pound steel beam fell on him Monday. He was pronounced dead at the scene. Family members, who visited the site, were able to identify Mancea as the victim. Originally from El Salvador, he resided in the United States for 12 years with his wife, two daughters and a son. His relatives declined to make any comments to reporters. After their initial investigation, emergency workers stated that they believed the death to be accidental and suggested that foul play was unlikely.
According to the website of Boston Bridge & Steel, the company works on contracts for bridge and steel construction projects in Massachusetts, as well as Connecticut and Pennsylvania. It also employs 65 workers on three shifts. The Boston plant was located at 256 Marginal Street, in East Boston. Because the site is on Massport property, the accident is currently being investigated by the Massachusetts State Police.
"A large piece in an arch shape shifted on the worker, trapping him underneath," Steve MacDonald, a spokesman for the Boston Police Department said. He confirmed that the large steel beam weighed about 12,000 pounds and that the department was working diligently to remove the still-trapped body of Mancea from the wreckage. He also stressed that this was necessary to respect the sensibilities of Mancea's family and friends. "It's very time-consuming to safely move [the debris] with as much dignity as we can for the victim," he said. MacDonald also said that he did not know what the steel beam was to be used for.
Tags: workplace safety
December 13th, 2013 | Posted in Blog, Workplace Safety Blog