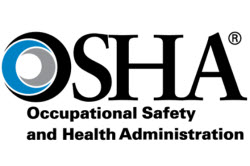 Each year, the Occupational Safety and Health Administration (OSHA) presents a list of the top violations during the past year. For employers and employees, this list illustrates the most common dangers and oversights in the workplace, making it a good reference to judge overall workplace safety.
The personal injury lawyers at Sheff Law see injuries from workplace safety violations every week, and we have deep experience providing support to people injured in the workplace. Too often, we see OSHA regulations treated as suggestions to be ignored by employers looking to save money, rather than simple rules that save lives.
We recommend that both employers and employees look at this list and use it as a starting point to evaluate safety on the job. The top OSHA violations repeat from year to year, which suggests that certain areas of safety are likely to be skipped when they might cost a little extra time or money. Paying attention to the rules will keep employees safe and businesses protected from costly personal injury or wrongful death lawsuits.
2016 Top OSHA Violations
Fall Protection: This tops the list in 2016 for the second year in a row, with 6,906 violations, though this was down from 7,402 violations in 2015. Residential construction violations were the most common, with 3,911. Unprotected sides and edges were second, with 1,278 violations, while failure to meet safety standards on low-slope roofs came in third. We frequently see these accidents happen on "small" or "quick" jobs, where a combination of overconfidence and a desire to finish something quickly overrides the desire to do things safely. Never assume any job is too small to be safe.
Hazard Communication: Placing second for the second consecutive year, these violations involve the transport, use and creation of hazardous chemicals, as well as training and communications protocols for workers. There were 5,665 violations in 2016, with implementation of hazard communication programs and training topping the list. Some of the most devastating cases Sheff has handled involve injuries caused by chemicals. Familiarity with work that leads to employees taking shortcuts and a failure to regularly inspect safety systems are top contributors to accidents. Never skimp on safety around chemicals, as a small mistake can end someone's life.
Scaffolding: Violations decreased from 4,681 in 2015 to 3,900 in 2016, but scaffolding remained third on OSHA's list. Violations reflected unsafe practices by both employers and employees, including a failure to protect workers on scaffolds more than 10 feet above a level from falling to a lower level, the use of cross braces as a means of climbing scaffolding and failure to fully deck scaffolds more than two feet off the ground. Failures to install guardrail systems and fall arrest systems rounded out the violations in this category. Falls are the most common cause of injuries involving scaffolds, and as with residential construction, it's the temptation to get a job done quickly that usually leads to employers and employees skipping safety rules.
Respiratory Protection: Landing at number four overall in 2015 and 2016, this area saw just 53 fewer violations in 2016 than in 2015. Common violations included failure to provide respiratory equipment, failure to fit test equipment to ensure it would operate correctly and failure to establish a respiratory protection program. Employers need to be more proactive about respiratory protection, and employees need to recognize that simply having a respirator is not enough to ensure safety.
Lockout/Tagout: This area, which was fifth overall for the past two years, saw an increase in violations from 3,308 in 2015 to 3,406 in 2016. Lockout/tagout procedures exist to prevent dangerous flows of energy during maintenance and service procedures. OSHA found general procedures lacking or not followed in 644 cases, found lacking energy control programs in 440 cases and cited employers for failure to inspect lockouts in 376 cases. Training issues were responsible for the remaining violations.
In the event of an accident, a past history of OSHA violations as well as any current OSHA violations in the workplace can open employers up to liability. The small amount of time and money saved by skipping safety rules pales compared to the massive costs that can be incurred if a worker is hurt or killed.
Both employers and employees have roles to play when it comes to following OSHA rules. Employers must set the example and be vigilant in training, but it is also the responsibility of workers to follow safety procedures to the letter. Never assume a job is too routine or simple for safety precautions, and never start work without making sure all the safety rules have been followed.
Sheff Law has extensive experience providing support to victims of workplace accidents. Every Sheff client gets a team of Boston personal injury lawyers instead of a single lawyer to help those harmed on the job get the full compensation they deserve. For a free consultation, call us at 888-423-4477 or contact us online.
January 23rd, 2017 | Posted in Blog, Workplace Safety Blog