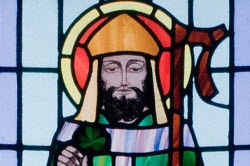 Call it a perfect storm for drunk-driving dangers in Massachusetts: St. Patrick's Day falls on a Friday night, with snow on the ground and more in the forecast, with the South Boston St. Patrick's Day Parade scheduled for Sunday, ensuring a weekend of boozy celebration for some.
It goes without saying: designate a driver, take public transportation or take a cab if you want to be safe over St. Patrick's Day weekend.  Between 2009 and 2013, 276 people were killed nationwide in St. Patrick's Day car crashes, according to the National Highway Traffic Safety Administration. The NHTSA identifies the hours between midnight and 6AM as the most likely time for drunk-driving fatalities and Saturday as the top day of the week for road fatalities.
Massachusetts compares favorably to the rest of the United States in terms of drunk driving arrests and fatalities, but accidents involving drunk drivers are more likely to be deadly. In 2014, of the 328 people killed on Massachusetts roads, 52% were killed in crashes involving drunk drivers.  Nationally, the average is 64%, according to the National Highway Traffic Safety Administration.
Heavy enforcement plays a role, as The Boston Globe reported that 15,000 to 16,500 people are arraigned on drunk driving charges annually in the Commonwealth, though only 10% to 15% are convicted. State and local police have been aggressive in their use of sobriety checkpoints on Massachusetts roads in recent years, adding further incentive for drivers under the influence to stay off the roads.
Drunk driving is hardly the only risk the holiday weekend presents, however. A more common problem, is assault, which can result from a potent combination of alcohol and crowds. The Massachusetts Department of Health's most recent injuries report, using 2013 data, found that there were 24,511 emergency room visits resulting from assaults. In fact, Massachusetts residents are more likely to go to the emergency room for assault-related injuries than for burn injuries, bicycle injuries or accidental overdose.
Staying safe during St. Patrick's Day weekend doesn't mean staying home, but it does mean being aware of the dangers that are out there. If you plan to drive, do so responsibly, but know that there may be more impaired drivers on the road than usual. If you plan to visit a favorite Irish pub, steer clear of situations that could escalate to violence.
Sheff Law has extensive experience aiding people who have been harmed in drunk driving accidents, as well as people hurt due to assaults that occur because of negligent security.  We provide a team of expert attorneys to handle each case, rather than a single lawyer, and we offer free consultations to victims and their families. Contact us online or call us at 1-888-423-4477 or contact us online.
March 17th, 2017 | Posted in Blog