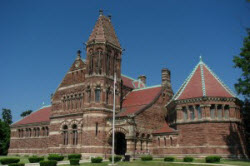 A 32-year-old New Hampshire man died at the scene of renovations at the Woburn Public Library on July 11. The man, an employee of Schnabel Foundation Company, was working on the underpinnings of the library's foundation when he was crushed beneath a piece of rock that fell into the work area.
Early reports described the rock as a "boulder" that may have come loose from the library's foundation. According to W.L. French, the main foundation contractor, heavy equipment was used only to rescue the man after the accident occurred.
W.L. French subcontracted a portion of the foundation renovations to Schnabel Foundation, a national contractor with offices in Southborough. Schnabel has 10 Occupational Safety and Health Administration (OSHA) violations in 6 states dating back to 2009, including one "Serious" violation in Massachusetts for failure to properly train employees. That violation led to a $4,500 fine.
OSHA is investigating the accident at the Woburn Public Library site, along with local and state police and the Middlesex County District Attorney's Office, which released a statement saying that the death is not considered suspicious.
Construction on the Woburn Public Library began in 1879. The building, with a quarried stone and brick exterior, was designed by Henry Hobson Richardson and appears on the National Register of Historic Places.
While the exact nature of the accident has not been reported, witnesses say a piece of the foundation broke free, killing the worker. This tragic construction site accident is a reminder of the dangers faced when renovating historic buildings, where a combination of age and unfamiliar building methods may create unsafe conditions.
Only a full investigation can determine whether this case will be treated as a wrongful death. Investigators will want to know what precautions were taken, how familiar contractors and subcontractors were with the type of foundation and its construction, and whether or not workers were properly trained to assess dangers and protect themselves. Other activity on the job site will also be examined to determine whether the use of heavy machinery or nearby traffic contributed to the weakening of the foundation.
Sheff Law has extensive experience representing people hurt in workplace accidents. Every Sheff Law client gets a full team of personal injury lawyers who thoroughly investigate the circumstances surrounding an accident to identify negligence and hold violators accountable. Contact us online or call us at 1-888-423-4477 for a free evaluation of your case. There is no charge to you unless you receive a settlement.
July 13th, 2017 | Posted in Blog, Workplace Safety Blog